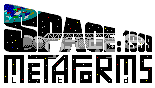 Reviews of Powys Media Novels
reviews by David Welle
In 2002, Powys Media, a U.S. publishing house with a license from the copyright holders of Space: 1999, published its first S19 novel, Resurrection. Between then and 2006, four original Y1 novels were published (including the first), as well as an updated set of Y2 novelizations published as a single Omnibus. Four new books were released in 2010Q1. An audiobook for the first novel is planned.
I have read a few of these so far, and posted some reviews so far, two of them originally on Online Alpha (mailing list), then as webpages here at Metaforms. More reviews will follow, eventually. What follows is a list of the books; any links are to the reviews posted so far. Each review does contain spoiler-free content, followed by increasing quantity of spoilers; each page will separate those portions very clearly.
Resurrection (first reviewed Apr'08, posted here Dec'09)
The Forsaken (reviewed/posted around Sep'09)
Eternity Unbound
Survival (read, not yet reviewed)
Year Two (a.k.a. the Omnibus) -- IN PROGRESS chapter-by-chapter review started Apr'10
Shepherd Moon (short story anthology)
Born for Adversity
Omega
Alpha
Links
---

Commentary Page
S-12/27/09: Added this page to link to existing reviews, instead of just from Commentary page.